The course that you are about to purchase is THE BEST creative thinking transformational video-driven training in the world.
Your money back if you don't agree.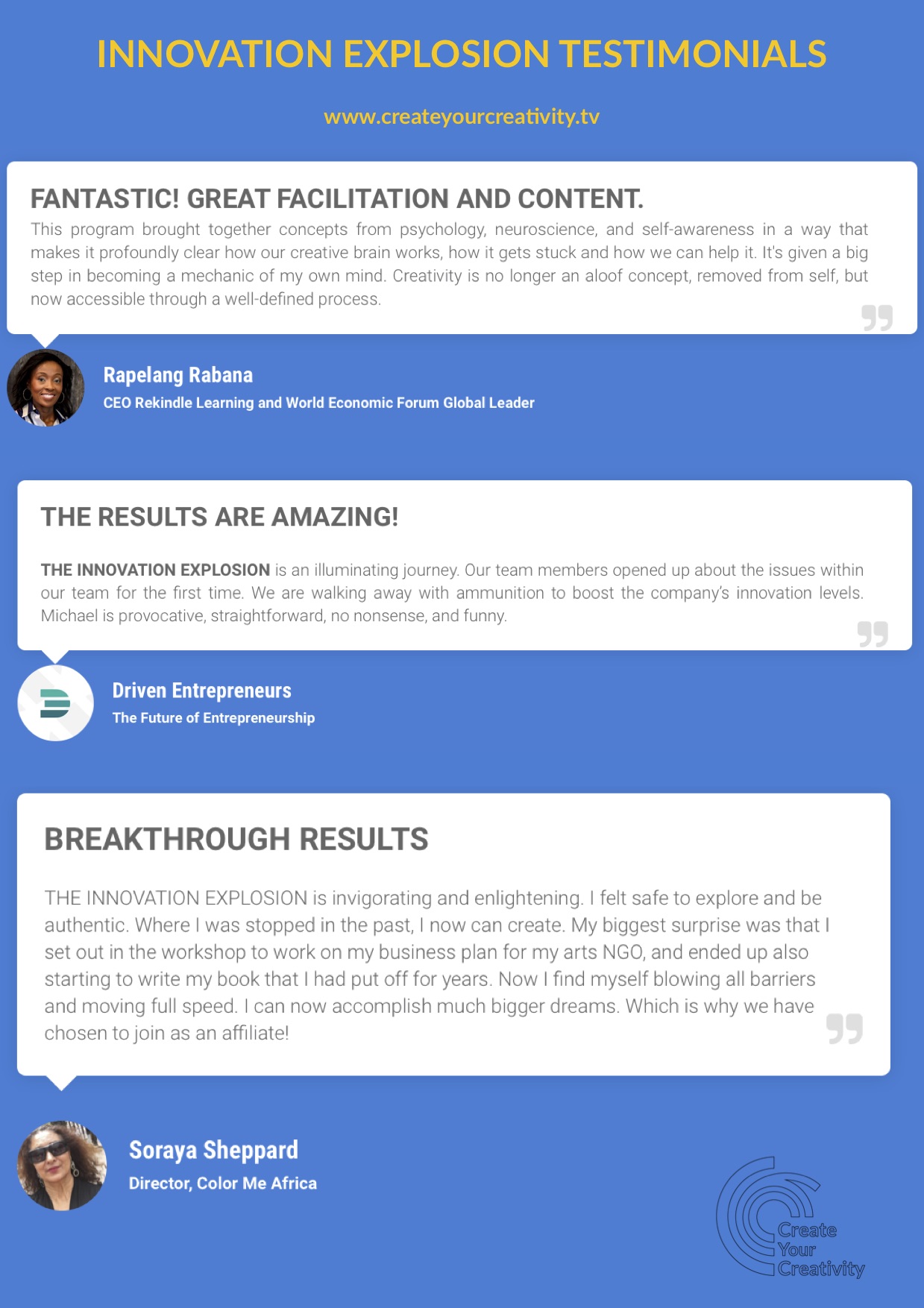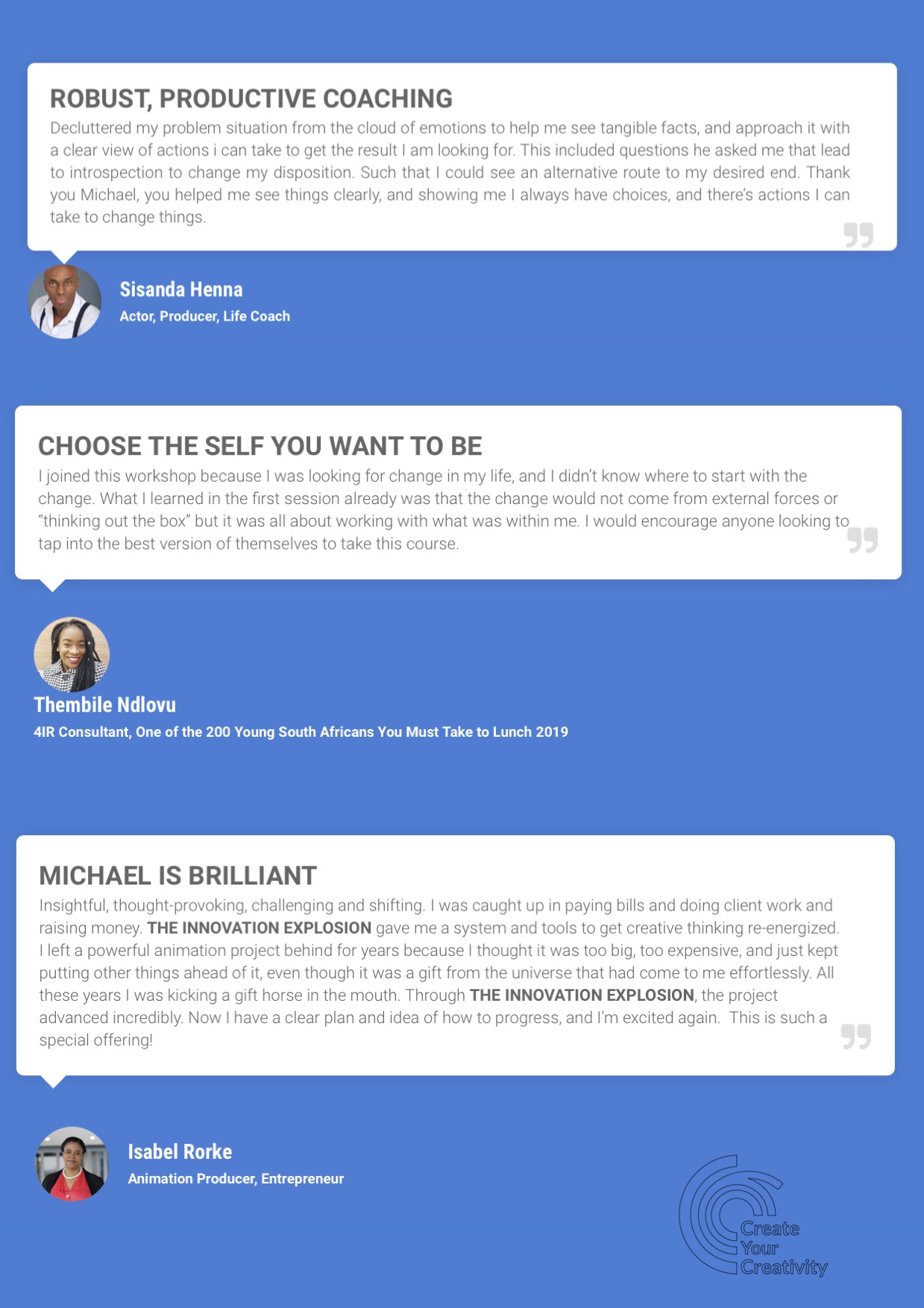 "CREATIVITY IS THE SKILL OF THE FUTURE."
- Forbes
"There is no better Investment you can make today than strengthening your creative skills."
- LinkedIn Learning
The above quotes say it all about the importance of creative thinking in business today. That and the fact that 6 of the top 10 skills needed in business are now creative thinking skills, according to the World Economic Forum.

The Coronavirus pandemic has only made this clearer. The world of aggressive adaptability, or unlearning and relearning, that Alvin Toffler heralded fifty years ago in his hyper best-selling book Future Shock, IS HERE, NOW.
Other methodologies like Design Thinking are aimed at getting an innovative result out of one process.
In The Innovation Explosion, YOU are the main result.
The aim is to FREE YOUR MIND FROM ITSELF.
To help you get more and better ideas faster and easier
And to implement them powerfully.
Our results have proven that The Innovation Explosion method works. On average our students (mostly entrepreneurs and business leaders) have increased their creative test scores by more than 20% on pure numbers, and more than 100% against the standard mean, going through the full eight weeks of this program.
The content of the workshop is about 9 hours of videos, which works out to on average 10 minutes to watch per day over an 8 week period. You should plan for an additional 20 to 45 minutes of "HOME PLAY" daily - depending on your own desire to dig in deeply. Thus the Innovation Explosion WILL transform your "INNOTIVITY™" if you put in 30 to 60 minutes a day every day for two months.
Sounds like hard work? Well sort of - more like hard FUN. You'll enjoy these unique videos and this unique approach to shifting your creative thinking, in the shape of a step by step method that you can repeat every time you set out on a daily creative activity at work or at home.
You can get much more information about the contents of the Innovation Explosion by clicking here - including lots more testimonials.
Or just be bold and buy now - you can always ask for your money back (you won't).
Your Instructor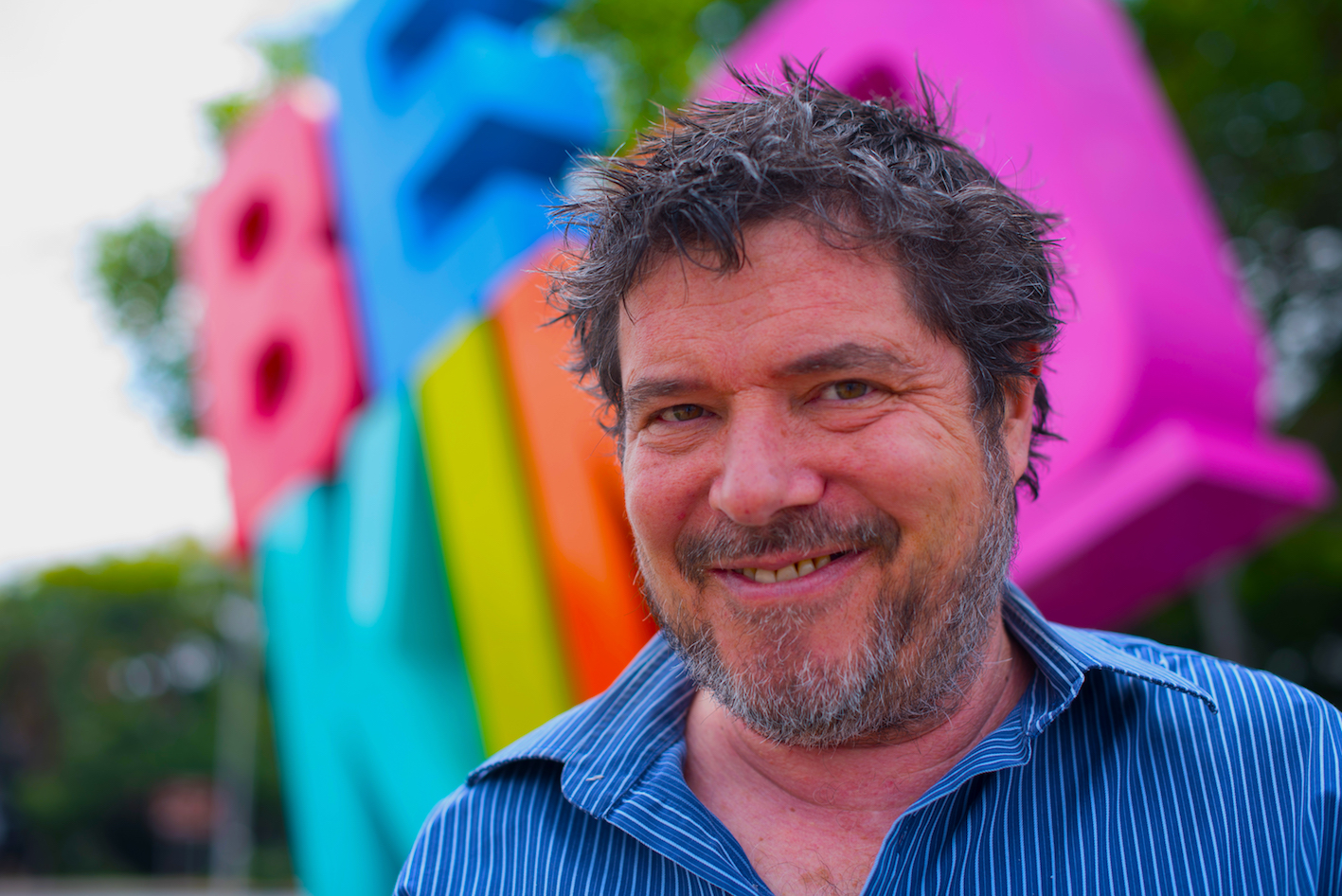 Michael is an internationally-certified Master of Creativity and Innovation Coaching, Thought Leader Coach, Abundance Coach, Executive Coach, Life Coach, and Master NLP Practitioner, as well as an innovation trainer, team facilitator, speaker, writer, and filmmaker with more than twenty years of experience in the film/TV industry on three continents.
He is the creator and lead trainer of The Innovation Explosion, a step-by-step creativity training that has doubled participants' creativity levels and led to their rapid fulfillment of previously-stuck projects.
He is also the founder of the Innotivity Institute and is co-founder and Chief Visionary Officer of the Human Innovation Project, a cutting edge creativity-based change management and human capacity design company.
A regular contributor to Medium.com publications, Michael is author of the upcoming books An Innovation Explosion, The IChing and Creativity, The Art of War and Innovation, and Burn the Box, due for release between 2020 to 2022.
Michael began his career as a script analyst for Castle Rock Pictures in Hollywood before moving to Prague, where he co-founded the international literary magazine TRAFIKA. He came to South Africa in 1998, became a resident in 2003, and a citizen in 2015. He is the recipient of a Ford Foundation Fellowship and an Individual Artist Grant from the NY State Council on the Arts.
He was founding Treasurer of the Documentary Filmmakers Association (DFA), served several years on the Exco of the South African Screen Federation (SASFED), and is currently on the Policy Subcommittee of the South African Writers Guild (WGSA).
He has taught at AFDA, WITS, and NEMISA, and created the program of the Academy of TV in Johannesburg, where he served as Head of School and Head of Development at various junctures.
In the film/TV industry, Michael was Head Writer for Single Mothers, a miniseries for Mzani Magic, based on his own concept. He is the Showrunner and Head Writer for the series adaptation in process of the novel Indaba My Children and writer/producer of adaptations in progress for two other South African novels. He has directed numerous reality shows and documentaries in Africa, including as co-creator of the 4x SAFTA-winning Jam Sandwich and as Head of Content for SAFTA-winning Die Foon, as well as directing Gulder Ultimate Search, Nigeria's biggest reality show. Michael was also Executive Producer of Documentaries and Reality Programming for Abuja-based Gotel Africa. He has directed several music videos for top South African artists. He is also an approved script editor for the National Film and Video Foundation (NFVF).
Last year Michael spoke at events including DISRUPTHR Jozi4.0, Leaderex, 4IR Indaba, MyFuture4.0, DHL Go Teach, and AIESEC Youth Speak. He serves on several 4IR commissions.
Frequently Asked Questions
When does the course start and finish?
The course starts whenever you are ready and runs for eight weeks - if you keep up the daily pace. Truly, it never ends! As it is a completely self-paced online course, you decide how fast to move, whether to come back and redo certain lessons or the whole thing.
How long do I have access to the course?
How does lifetime access sound? After enrolling, you have unlimited access to this course for as long as you like - across any and all devices you own.
What if I am unhappy with the course?
You won't. We have literally not had one single person cancel this course after starting it. But if you are dissatisfied with the content, you can get a full refund in the first 30 days after buying.